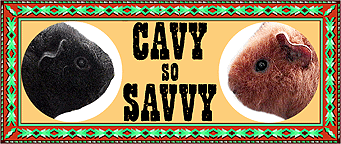 Click on images for a larger view!
Hiya! My name is Kei. I am a "solid red" Teddy cavy. I love to run real fast. My favorite food is carrot.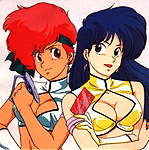 My care givers named me after the character Kei from "The Dirty Pair".


Here are The Lovely Angels.
"My name is Kei, nineteen years old. I'm 711 centimeter tall and weigh 54 kilogram. My vital statistics are 91-55-91 centimeter. I think it's ideal proportion. My hair is red and slightly frizzled, and I've got it set in short wolf-cut. I think this cut fits me. My eyes are brown and so is my skin, yes, corn-colored. I dare say, I'm a cute and just a little mannish beauty."
---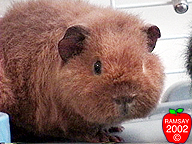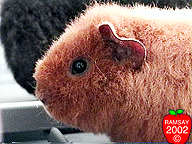 Kei is just the cutest... but hides her true feisty nature.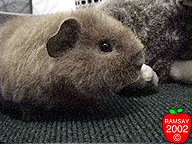 Outdoor carpet with 4-inch bathroom molding makes a great, portable rec area.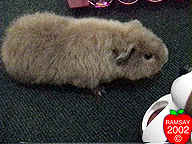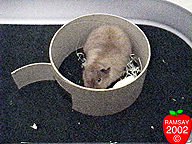 We made a "house" to hold hay, from the center core of a carpet tube.
(It's thick pressed cardboard, with no wax or printing.)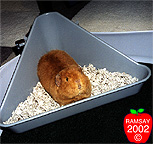 Kei is... umm... well, ya know, busy.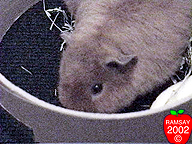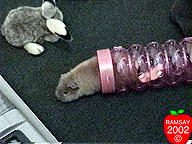 Piggies like ferret tubes too!
Please select from one of the two Galleries below:
Return to Cavy Image Gallery Index
---
If you would like to link my site, please use the banner and URL listed below: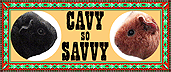 http://www.costumemaker.com/cavy.html
Please select another destination:
---
This site visited
times since 3/1/02.
Free counters provided by Andale.

---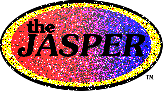 Copyright 2002~2006 David Ramsay and Kimberly J. Ramsay. All rights reserved.
"The Japanese Animation Super Premier Entertainment Review" ,
"the J.A.S.P.E.R." and "theJASPER" logo are trademarks of David Ramsay, 1998~2006.
"theJASPER Cosplay Closet" logo and
"The Cosplay Closet: 'Where Costumes Become Anime-ted' "slogan
are ® Registered Trademarks of David Ramsay, 1999~2001.
David "Z-RAM" Ramsay and Kimberly "Hikaru-chan" J. Ramsay acknowledge the
copyright holders of materials contained herein and do not seek to infringe on their rights.
Reproduction in whole or in part without permission is prohibited.
First uploaded March 1, 2002 by: David Ramsay