Click on images for a larger view!
Hello! My name is Piccolo (a.k.a. Chunk E. Nub, Esq. III). I look mean, but really scared of just about anything. My favorite activity is singing and head-bobbing to my mirror.
---
Introducing...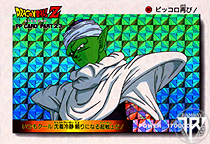 ...Piccolo with a permanent scowl on his face. He is named after Piccolo from DragonBall Z.





In case you were wondering, Piccolo is an ENORMOUS English Budgie.


Piccolo and his favorite toys.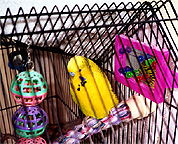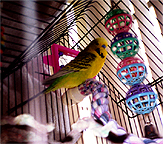 Plump Piccolo likes to sit next to the mirror. Always checking himself, to make sure that he looks good!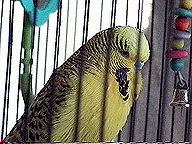 Piccolo being his dapper self.

Relaxing in his traveling case.



Piccolo's home is full of toys...


...but Piccolo prefers to talk to his reflection.
Return to Budgie Image Gallery Index
---
If you would like to link my site, please use the banner and URL listed below:

http://www.costumemaker.com/budgie.html
Please select another destination:
---
This site visited
times since 2/3/01.
Free counters provided by Honesty Communications.

---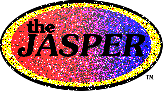 Copyright 2001~2006 David Ramsay and Kimberly J. Ramsay. All rights reserved.
"The Japanese Animation Super Premier Entertainment Review" ,
"the J.A.S.P.E.R." and "theJASPER" logo are trademarks of David Ramsay, 1998~2006.
"theJASPER Cosplay Closet" logo and
"The Cosplay Closet: 'Where Costumes Become Anime-ted' "slogan
are ® Registered Trademarks of David Ramsay, 1999~2001.
David "Z-RAM" Ramsay and Kimberly "Hikaru-chan" J. Ramsay acknowledge the
copyright holders of materials contained herein and do not seek to infringe on their rights.
Reproduction in whole or in part without permission is prohibited.
First uploaded February 3, 2001 by: David Ramsay