Click on images for a larger view!

Hello! My name is Hee Bee. I am very timid around people. My favorite activities are swinging and preening my feathers. I like spending time with my girlfriend, Gee Bee. Sometimes, Gee Bee can be a little pushy. If I don't move fast enough, she pulls at my tail feathers. Ouch!
---
Introducing...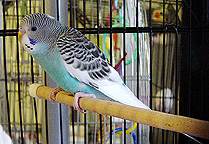 ...Hee Bee, who is a real sweetie.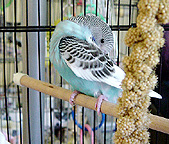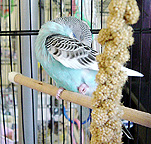 The little fellow is trying to take a nap.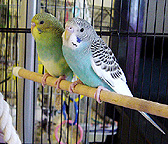 Our two "lovebirds", Hee Bee and Gee Bee.



When Gee Bee is in a good mode, she likes to gently nibble my face.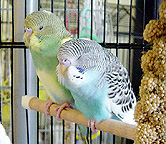 We keep each other happy.
Return to Budgie Image Gallery Index
---
If you would like to link my site, please use the banner and URL listed below:

http://www.costumemaker.com/budgie.html
Please select another destination:
---
This site visited
times since 2/3/01.
Free counters provided by Honesty Communications.

---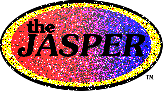 Copyright 2001~2006 David Ramsay and Kimberly J. Ramsay. All rights reserved.
"The Japanese Animation Super Premier Entertainment Review" ,
"the J.A.S.P.E.R." and "theJASPER" logo are trademarks of David Ramsay, 1998~2006.
"theJASPER Cosplay Closet" logo and
"The Cosplay Closet: 'Where Costumes Become Anime-ted' "slogan
are ® Registered Trademarks of David Ramsay, 1999~2001.
David "Z-RAM" Ramsay and Kimberly "Hikaru-chan" J. Ramsay acknowledge the
copyright holders of materials contained herein and do not seek to infringe on their rights.
Reproduction in whole or in part without permission is prohibited.
First uploaded February 3, 2001 by: David Ramsay